I'm tired of the myth about insurance for pre-existing conditions. The picture below motivated me to write this blog post: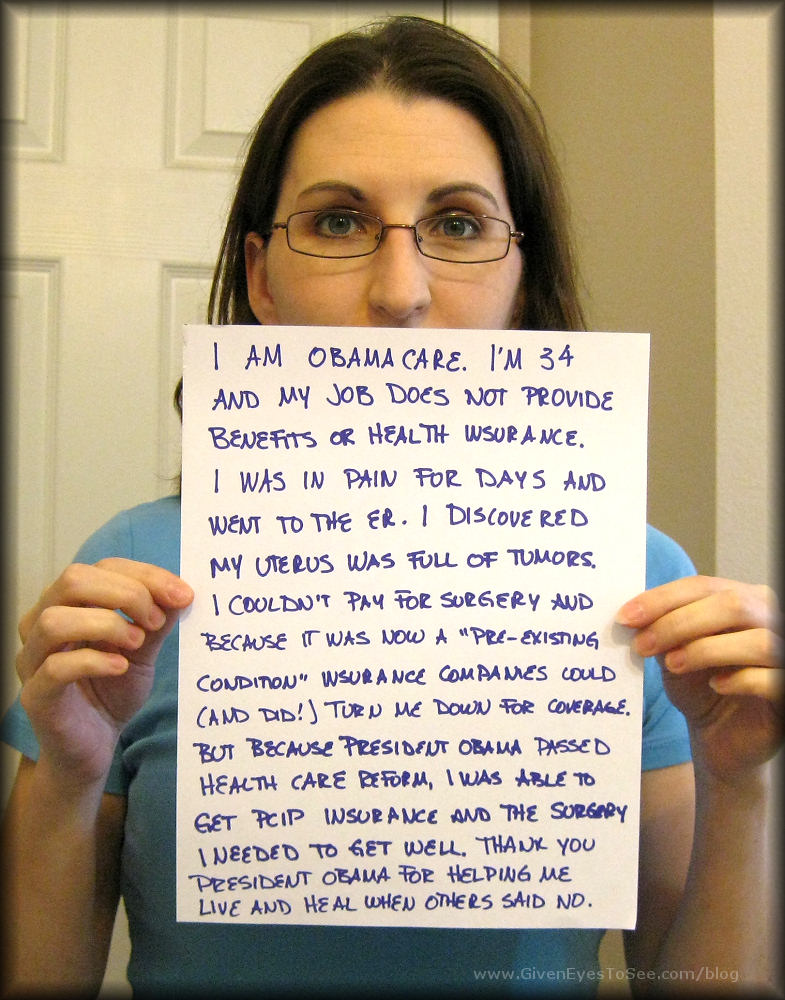 Short story, from her perspective: Her job did not include health insurance. She was diagnosed with tumors in her uterus. Then she couldn't get insurance coverage for this pre-existing condition. So she favors Obamacare. For a fuller version of her side, see her blog post: I am Obamacare.
One key detail she does not mention: While her job did not include health insurance, she chose not to pay for health insurance out of her own pocket.
Now she complains that she can't get insurance for this pre-existing condition. But this is a misunderstanding of what the word insurance means.
Please consider this analogy:
Her job didn't include car insurance, and she did not buy any on her own. She got in an accident and the car was damaged. She went to a car insurance company, and they refused to pay for the pre-existing damage to her car. And this was a nice insurance company, so they didn't laugh at her.
The more reasonable version of pre-existing conditions is where you have a condition that makes you more likely to suffer certain diseases, but you have no symptoms or evidence of such disease yet. That creates an adverse selection problem – the people who are likely to get sick are more likely to buy insurance, and they cost more to insure so that drives the price of insurance up. Then the people who are less likely to get sick are less likely to buy insurance. Removing them from the risk pool increases the total risk, further driving prices up. This is an area where some economists argue, somewhat credibly, for government intervention to address this form of market failure.
But the current discussion about Obamacare and pre-existing conditions is not about adverse selection or "insurance", as the photo above shows. Insurance is about covering for the risk that something might happen, not about covering for something that did happen.
This part of Obamacare is about bailing out people who chose not to pay for health insurance. And the blame does not fall only on President Obama and the Democrats. Most Republican insiders are just as bad. Government bails out people who did not buy adequate insurance for floods. It has bailed out banks, car companies, and so on.